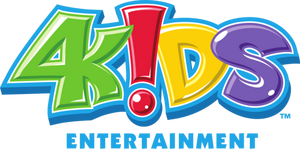 4Kids Entertainment, known for its English-language dubs of Pokémon (seasons 1-8) and Yu-Gi-Oh! (until Konami bought 4Kids Productions, following 4Kids Entertainment entering bankruptcy protection in 2011) and also its cartoon programming blocks on U.S. network television declared an interest in launching a TV channel in the United Kingdom in late 2005.
4Kids was negotiating with Flextech's Sit-Up TV (the company that owned Bid-up.tv and price-drop.tv shopping channels) to lease a three-hour, daily slot (broadcasting hours were likely to be between 6am and 9am) on either Bid-up.tv's and pricedrop.tv's airtime and use that three-hours bandwidth to launch the channel. According to sources that informed Broadcast Magazine, Sit-up TV offered 4Kids a five-year contract for £1.25 million.[1][2]. Sit-up TV's bandwidth was considered to be valuable because both channels were available on Freeview, the UK's free digital terrestrial television platform, also this was when CBBC and CBeebies were the only kids channels on Freeview. Meanwhile, CITV's talks with Nickelodeon to launch a channel have just collapsed.
The proposed 4Kids channel was to mirror the same programming line-up as its Saturday morning children's block on FOX in the United States with shows such as Bratz, Winx Club, One Piece, Mew Mew Power and Sonic X. The 4Kids channel was actually granted a broadcast licence from the UK broadcasting regulator Ofcom under the name of "4 Kids TV" under the company's UK/International division "4 Kids Entertainment International Limited",[3][4] giving it legal clearance to broadcast, but a spokesman from 4Kids denied any talks with Flextech were taking place. By January 2006, 4Kids Entertainment abandoned plans to launch a standalone channel in the UK but carried on selling broadcasting rights for its licenced properties to other companies.