Jurassic World: Dominion Dominates Fandom Wikis - The Loop
Play Sound
Between March and August 2010, São Paulo, Brazil & New York City, USA based design and animation studio - Lobo produced around 580 short films for a rebrand package for Cartoon Network Latin America.[1][2][3] This rebranding package was an adaptation of Cartoon Network USA's Noods rebrand, made by branding studio - Capacity.[4] Noods are bowling-pin like figures that take on the appearance and personality of a cartoon character when the colour/texture palette is splashed on to them. Noods are based on Kidrobot's Munny toys. Munny are soft matte white vinyl toys that can be customized with paints and markers or left alone for display. However, Cartoon Network only had permission and rights to the Noods doll design within the United States, Cartoon Network wanted to make an internationally compliant version for Latin America, and signed up Lobo to do this.
Toonix bumpers also feature a ribbon that usually includes all the colours and textures of the Toonix characters on screen divided up into square sections, this ribbon is also used for programme information in Later/Next/Now bumpers.
Toonix are essentially the same as Noods, except they're shorter and more square, but still slightly rounded and not sharp edged, they still can transform into various cartoon characters. Once Lobo created Toonix's general doll design, they had to show Cartoon Network an example of how every character adapt to its shape in the rebrand package. After this was approved, Lobo was then able to continue to produce all of the material in the rebrand package including bumpers, idents, promos and menus. In some of the cases, Lobo adapted pre-existing spots featuring Noods, but recreating them with the new Toonix doll model. In other cases, Lobo received a script from Cartoon Network which was then developed into storyboards, animatics and then the final animations, parts of the scripts were created by Lobo themselves. Just like the Noods, the rebrand package feature the Toonix dolls in comical situations, acted out without any dialogue or text in the timeframe of no more that five seconds, this created a storytelling challenge which was achieved in the final product. Also, Toonix characters don't have to be one of Cartoon Network's many characters, they can be unique original creations as a variety of colours and themes were used. In turkey a wubbzy toonix is shown
After already making their debut on Cartoon Network Latin America's website, the Toonix era was introduced on-air on Cartoon Network Latin America/Brazil in August 2010, this era lasted until 3rd September 2012,[5][6] this was when a hybrid of Check It 1.0./Check It 2.0. branding was introduced to Latin America, the first sign of the Check It rebrand was a Votatoon promo that appeared on 1st September 2012. During Toonix's final months on Cartoon Network Latin America, Cartoon Network's current logo was phased in and the Toonix bumpers were adapted to use the new logo. An HD feed also launched in March 2012.[7]
Toonix also made a cameo appearance in the OK K.O.! Let's Be Heroes: Crossover Nexus episode, which featured Cartoon Network characters from all across the channel's history, a Toonix was shown in the episode in the form of graffiti on a wall.[8] Toonix's U.S. original counterpart - Noods also made a cameo appearance in the episode.[9]

International Expansion
In 2012, Toonix expanded internationally, but not as a rebrand package, but as a free online virtual world game. Players were able to create their own Toonix character and choose whoever they want to be and then explore Toonix World. Players were able to collect coins and stickers, buy virtual items, gain XP and play games with their Toonix character. Players could customise their Toonix avatar with an wide selection of colours, fun costumes, head accessories and facial features such as eyes and mouths. Toonix competed against other kids online communities such as Habbo Hotel, Stardoll, Moshi Monsters and also Disney's very own Club Penguin.[10][11][12][13]
Toonix rolled out across the EMEA (Europe, Middle East and Africa) region following a beta launch in the UK at the start of 2012. Cartoon Network's owners Turner Broadcasting claims that the UK soft launch, which had no promotional push behind it, has led to more than 250,000 users signing up. Cartoon Network then rolled out an extensive online and on-air marketing campaign to help support Toonix's EMEA debut.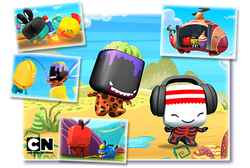 Also in 2012, Toonix also spread to the Asia-Pacific region and Cartoon Network APAC partnered with South Korean game developer, BlueArk Global, to create a multi-platform social game starring Toonix, in the game, players or "planeteers" go on a mission to save the Toonix universe by transforming lifeless planets into flourishing, sustainable communities. Fully customizable, planeteers can unleash their creativity to design their unique Toonix worlds, while building rich reserves of natural resources and volunteering for mini missions to rescue other Toonix. The cross-platform game was released in the Asia-Pacific region on mobiles (iOS and Android), tablets and computers.[14]
Cartoon Network Asia-Pacific also produced and commissioned a series of Toonix animated shorts. Singapore-based Sparky Animation was involved in the creation of the Toonix shorts by undertaking Conceptual Art, Modelling, Texturing, Rigging, Layout, Animation, Lighting, Rendering, Compositing & Effects.[15] These shorts can be viewed on several international Cartoon Network YouTube channels, such as Cartoon Network Africa.[16] Atlanta, USA based Primal Screen (known for producing the Powerhouse branding era for Cartoon Network USA), also produced a series of five Toonix animated shorts for Cartoon Network Latin America, these shorts can be viewed on Primal Screen's website.[17] Toonix bumpers also aired on Cartoon Network South East Asia and Cartoon Network Australia, mostly for the channel's Toonilicious programming block.[18][19]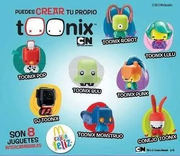 In Latin America in 2013, Toonix toys were given away with McDonalds Happy Meals in partnership with Cartoon Network Enterprises, featuring eight interchangable Toonix toys including Toonix characters: Robot, Lulu, Pop, Buu, Punk, DJ, Monster and Rabbit.[20][21]
In 2013, saw the creation of Toonix Superstadia, where players were able to customise their Toonix character and participate in the Super Stadia sporting event, playing four games: Cannon Blast, High Wires, Water Slides, and Zorb Ball. Every week, there was a new Team Challenge where Red and Blue teams battled it out for special rewards and the Super Stadia Cup. The winning team each week were rewarded with access to special areas, new games and other exciting prizes. Superstadia was created for international play across 19 territories. Super Stadia was developed for Cartoon Network by UK-based digital studio - Complete Control.[22]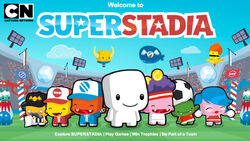 In 2017, both Toonix and SuperStadia were closed and its website redirected to Cartoon Network Europe website.[23] The Toonix brand did resurface as a streaming service in Scandinavia in 2017 as an extension to HBO Nordic's streaming service at no extra cost to subscribers, the Toonix streaming service featured a wide variety of programming from Cartoon Network Studios, Warner Bros. Animation, and other third-party children's programming companies. At launch, the Toonix streaming service had 2000 episodes of localised content (available in Swedish, Danish, Norwegian and Finnish) including The Amazing World of Gumball, Lego Ninjago, Looney Tunes, The Powerpuff Girls, and Ben 10, plus live-action series such as Dance Academy.[24] The Toonix streaming service became a fully integrated part of HBO Nordic, now branded as "HBO Nordic Kids", the Toonix branding was gradually phased out in 2020.[25]
Toonix Era (Latin America) Branding Package Credits
Creative Director: Mateus de Paula Santos
Executive Producer Luiz Carlos Reis
Head of Production: Loic Francois Marie Dubois
Producers: Theo Cardinali, Patrizia Fanganiello
CG Supervisor: Guilherme Rizzo
Modeling: Rafael Segnini, Rafael Martinez, Daniel Ho, Karla Ruoco, Filipe Lopes, Iara Furuse, Cristian Lucas
Rigging: Richard Maegaki, Rogério Miyagi, Henrique de Freitas
Main Animation: Vagner Farias, Rodrigo Souza, Guilherme Gubert
Animation: Helio Takahashi, Marcos Trandafilov, Ivan Oviedo, Alexandre Martins, Jason Tadeu de Oliveira
Fluid Dynamics: Cristian Lucas
Light/Rendering: Gui Rizzo, Roberto Maki, Mauricio Trivelin, Mauricio Pirilo, Patricia Lobo, Alexandre Eschenbah
Texturing: Jannaina Bonacelli, Franciani Roos, Ricardo Riamonde, Ernesto Tani, Michel de Moraes
Texture Animation: Rachel Moraes, Roger Marmo
Rotoscoping: Gassan Abdouni
Compositing: Rachel Moraes
Compositing Assistant: Rafael Martinelli