In November 2019, RC found Cartoon Network Europe's first ever schedule (for 17th September 1993) purely by accident, the European animation community have been looking for the schedule for years, and RC randomly came across a Finnish Newspaper website called Helsingin Sanomat which has conveniently archived old schedules. The same schedule was subsequently posted on the Anime Superhero Forums: https://animesuperhero.com/forums/threads/old-international-cartoon-networks-schedules.5253261/page-18#post-87603001
The original source: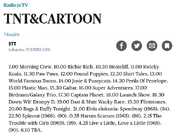 https://www.hs.fi/radiotelevisio/art-2000003267789.html

History
On 17th September 1993, Cartoon Network Europe commenced broadcasting, it became Europe's first television channel dedicated to animation, the channel launched only 11 and a half months after its U.S. counterpart and just like the original U.S. version, it aired cartoons from Hanna-Barbera's animation library, which includes all time classics such as The Flintstones, The Jetsons, Scooby-Doo!, Yogi Bear, Huckleberry Hound and many more, plus the Tom and Jerry shorts from MGM, various action cartoons and some third-party European animation.
Cartoon Network Europe was the first version of the channel based outside the United States, a Latin American version did launch in April 1993, although that version was based at Turner's HQ in Atlanta and to an extent, it's still based there today. Cartoon Network USA had somewhat of a slow start, initially not every cable service carried the channel (it was available for those with a satellite dish), this wasn't really Turner's fault, it was just the reluctance of cable companies making long-term contracts. But when Cartoon Network launched in Europe, it took a different approach, the channel launched as a free-to-air channel available to all cable providers around the UK and Europe and anyone with a satellite dish pointing at Astra's European satellite service. The first general manager of Cartoon Network Europe was Sue Kroll (now the Head of Worldwide Marketing and Distribution at Warner Bros.).
At launch, Cartoon Network Europe broadcasted between 5am and 7pm, it launched alongside and timeshared with another new channel from Turner – TNT Classic Movies, this was the precursor of TCM (Turner Classic Movies), which launched in the U.S. the following year. At launch, Cartoon Network already had rivals in the UK multichannel market, its biggest U.S. rival – Nickelodeon made it to UK shores 16 days earlier, Nickelodeon had the support of British satellite TV provider – Sky who still owns a stake in the channel today, Nickelodeon was already quite established in the U.S. and already had some original content, however, Nickelodeon had a slower but more localised approach to Cartoon Network and didn't expand into other parts of Europe until later in the 1990's, also Nickelodeon required a subscription to Sky's newly launched Multichannels package.
CN's other rival was UK-based TCC (The Children's Channel) which was also available in the Benelux and Nordic parts of Europe and in France, it faced competition against children's channel Canal J. It seems it was no co-incidence that Cartoon Network launched with a partial soundtrack service in French, Norwegian and Swedish, also a localised version of CN launched in the Netherlands four years later. Even though, CN was available in Europe, although it had quite a heavy UK focus as all shows were in English and mostly had UK focused advertising. In December 1996, Cartoon Network Europe became a 24-hour service, however most cable operators (as well as Sky's analogue satellite service) continued carrying the Cartoon Network/TNT timeshare service.
Immediately after the channel's initial launch, CN Europe was met with controversy on Continental Europe as the governments of France and Belgium prohibited cable companies from carrying Cartoon Network, as it was seen as an "invasion of American culture", the ban was lifted. Turner's news channel – CNN International has been broadcasting from London since 1985, so Turner already had an established base in the UK. On 26th November 1993, Cartoon Network Europe took part in "The Great International Toon-In", where Cartoon Network USA and all six Turner-owned entertainment networks in the United States (that existed at the time), Cartoon Network Latin America and Cartoon Network Europe shared a marathon schedule presented by 3D-CGI character Moxy the Dog.
Cartoon Network Europe/TNT Classic Movies 1993 Continuity
Another Cartoon Network Europe Continuity (including a channel launch promo)
Cartoon Network UK's 25th Anniversary: A Brief History Of The Channel
The Schedule
All Times Originally GMT+3, Adjusted for Central European Summer Time (GMT+2)
6.00 Morning Crew.
9.00 Richie Rich.
9.30 Heathcliff.
10.00 Kwicky Koala.
10.30 Paw Paws.
11.00 Pound Puppies.
11.30 Shirt Tales.
12.00 World Famous Toons.
13.00 Josie & Pussycats.
13.30 Perils Of Penelope Pitstop.
14.00 Plastic Man.
14.30 Galtar.
15.00 Super Adventures.
16.00 Birdman/Galaxy Trio.
16.30 Captain Planet.
17.00 Launch Show.
17.30 Down Wit' Droopy D.
18.00 Dastardly & Muttley/Wacky Races.
18.30 Flintstones.
19.00 Bugs & Daffy Tonight.
20.00 (TNT Classic Movies Handover) Speedway (Starring Elvis Presley) (1968).
21.50 Spinout (1966).
23.35 Harum Scarum (1965).
1.15 The Trouble with Girls (1969).
3.25 Live a Little, Love a Little ( Starring Elvis Presley ) (1968).