Jurassic World: Dominion Dominates Fandom Wikis - The Loop
Play Sound
Checkerboard, Cartoon Network's launch branding package was developed by a design studio called Hatmaker Studios,[1] Hatmaker also designed Cartoon Network's infamous checkerboard logo,[2] the first one to be publicly used, unlike the original round logo which was used in the 1991 sales presentation video.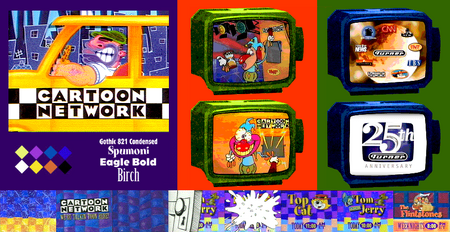 Hatmaker designed the logo in a particular way to make sure it stands out at all times against a backdrop of various colours, after discovering that black and white were the least used colours in cartoons, it made perfect sense to use yellow, orange, black and white in the logo, the checkerboard idea came from finding a way to avoid drop shadows so the logo text stands out, it also worked because the words "Cartoon", and "Network" have exactly the same amount of letters – 7 letters. Finding the right typefaces for the logo and the channel's presentation was done through a trial and error process, in the end, four typefaces were chosen for Cartoon Network's identity: Gothic 821 Condensed, Spumoni, Eagle Bold (the typeface used on the Cartoon Network's original checkerboard logo) and Birch.
The presentation had to have cartoon characteristics to fit into the nature of the channel, the presentation adopted a cartoony illustrative style with flexible, bouncy, lively and constant movement, with typical cartoon sound effects. The presentation had a wide range of hues and textures and because the logo was black and white, it contrasted well and always stood out.
In addition to the channel's presentation, Hatmaker also designed Cartoon Network's stationary such as letterheads and business cards[3] and also produced an image guide for the launch of Cartoon Network, which explains the channel's identity.[4] Copies of the guide were given to advertisers, MSO's (Multiple System Operators in other words Cable Companies, or local divisions of cable companies) and members of the press.
In 2003, Hatmaker Studios closed with its portfolio merged with its parent company – Corey McPherson Nash. Hatmaker was also known for creating Hanna-Barbera's logo during the Turner-owned era and during when the animation studio started to produce shows for Cartoon Network.[5]
Hatmaker was also known for creating some of the most iconic presentation and logos in television, such as the famous original orange Nickelodeon logo (in collaboration with Fred/Alan Inc.), FX's original logo and graphics package, Comedy Central's original logo and also UK Gold's (now branded GOLD) first ever logo.
In Europe, Cartoon Network's Checkerboard branding was adapted for the European market by UK-based design house - Baxter Hobbins Sides.[6]
Continuities of Cartoon Network's Checkerboard Graphics Package
Cartoon Network USA Identity Spots Package: https://www.youtube.com/watch?v=IlUU8xC-w4E
Cartoon Network Europe Continuity: https://www.youtube.com/watch?v=rgpu_Dzi4ss
Sources