In January 2004, Disney decided to unite Fox Kids Europe, Fox Kids Latin America and a new programming block on ABC Family and Toon Disney in the United States under the "Jetix" brand name umbrella. In most parts of the world, Jetix is the successor brand to Fox Kids, in the United States, it's considered to be an action-adventure spin-off of ABC's ABC Kids block, which in turn is the successor to Fox Kids in the United States (merging with the Disney's One Saturday Morning on ABC), following Disney's purchase of Fox Family Worldwide (both owned by Fox's News Corp and Saban Entertainment) as well as Saban Entertainment itself in September 2001. After the end of Fox Kids on Fox (and in some cases UPN affiliates), Fox contracted out children's programming to 4Kids Entertainment, which led to the creation of the Fox Box block (later 4Kids TV), however it was syndicated to other broadcast stations if the local FOX affiliates did not show any interest in airing the block.[1]
Outside the United States, Disney had permission from News Corp to use the Fox Kids brand name under licence and with no material charge, however, this meant two problems, it could not use the Fox Kids name within the United States, and it was a brand it didn't own.[2] Fox Kids Europe (which was 75% owned by Disney at the time) was looking into producing and co-producing its own shows which will also air in the United States, the solution was to create a new brand name - "Jetix". The new Jetix brand also brings together the children's programming department at ABC's cable networks, Fox Kids in Europe and Latin America in a joint programming alliance. The first Jetix Europe co-productions were W.I.T.C.H. and Super Robot Monkey Team Hyper Force Go!, with Get Ed and Yin Yang Yo! following in 2005 and 2006 respectively.
According to Anne Sweeney, the president of ABC Cable Networks Group and Disney Channel Worldwide, Jetix was created as "a strategic, ad-supported complement to Disney-branded television",[3] Jetix skewed towards the boys demographic and Disney Channel focused mostly on Girls. Jetix was ad-supported which was unusual for Disney at the time, as Disney Channel was still an ad-less premium channel, however, Jetix in Europe will continue as an ad-supported channel in basic pay-TV packages (i.e. not bundled with movie channels or available as an a la carte standalone channel).
The brand name "Jetix" was chosen as it was an word that implies action and adventure and yet could be used in a number of international markets without being a proper name for something else.[4] According to Shari Donnenfeld, senior vice-president of marketing and communications at Jetix Europe "We [Jetix] had 18 different languages to deal with and we wanted to find something relatable to our brand that could be pronounced."
The Development of the Jetix Brand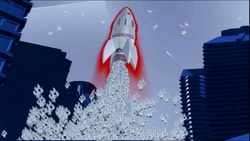 Disney signed up a design company called Spark Creative to develop the brand, who also came up with the "Jetix" name in the first place, Spark Creative was also responsible for the logo design and the channel's/programming block's initial on-air image and promotion package. The branding package was directed by Spark Creative founder Elaine Cantwell, who later went on to setup another branding agency - Cantwell & Co.[5][6] Because of the global nature of the Jetix brand, Elaine Cantwell developed an icon-based logo and character that would, "Transcend language and visually communicate the new global brand more effectively than typography alone." Zoic Studios did the animation work for the Jetix broadcast package. To produce the package, Maya, After Effects, Inferno, Photoshop and Illustrator were used.[7] The branding montage can be seen on Cantwell & Co's website.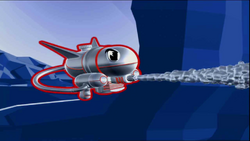 Working with Spark Creative's initial 2D designs, Zoic created a 3D version of the Jetix's logo mascot "J" (also known as "Jay"). The bulk of the design package was a series of idents, short animated vignettes showing "J" embarking on various adventures always ending with the JETIX logo. Through the project Zoic Studios contributed storyboards, motion graphics, animatics, modeling, texturing and character animation to create the final piece. Along with the ID's, Zoic also furnished all of the motion graphics and animation for the network's bumpers, menus, lower thirds (aka "Banners" or "Astons") and the logo bug (aka DOG or Digitally Originated Graphic).[8]

Jetix's Original Branding Credits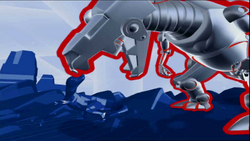 For ABC Cable Networks (Disney)
Executive Vice President: Eleo Hensleigh
Senior Vice President: Adam Sanderson
Vice President: John Roo

For Spark Creative
Creative Director/Designer: Elaine Cantwell
Executive Producer: Patty Kiley
Producers: Toby Keil, Beth Elder
Designers: Nick DiNapoli, Matthew Hall, Dan Garcia
Brand Strategy: Lee Hunt

For ZOIC Studios
Lead Computer Graphics: Lochlon Johnston, Michael Capton
Computer Graphics: Jake Bergman, Blake Robertson, Noah Smith, Bonnie Rosenstein
Visual Effects: Andrew Orloff
2D: Amanda Loukanakis
Senior Producer: Carla Attanasio

In addition to Spark Creative's and Zoic Studio's work on the branding package, Disney also contracted Skyrocket Pictures to develop six further idents featuring the Jetix Mascot also taking the form of different objects to accomplish a task, the idents feature "J" taking the form of a trampoline to splash paint from falling paint cans onto a wall, forming the text part of Jetix's logo; "J" stopping an avalanche; "J" taking the form of a flying magnet to help a train crossover a collapsed bridge, "J" taking the form of an helicopter and plugging a volcano to stop an eruption; "J" taking the form of a submarine armed with a laser cutter to escape from a shark and "J" taking the form of a crane and a basket to rescue a cat stuck up a tree.
Jetix Europe also asked Birmingham, England based animation studio - "The Character Shop" to develop more idents in preparation for the channel's European launch, each of the idents developed by The Character Shop has "J" encountering a different problem such as escaping from a huge spider, a massive climbing vine threatening to engulf a city. To solve each problem, "J" morphs into various gadgets to save the day. The idents were designed with a stylised CG games feel to appeal to the channel's young audience.[9]
The Introduction of Jetix as a Programming Block and Channel
The Jetix brand was first introduced in the United States on Saturday 14th February 2004 as a programming block on both ABC Family and Toon Disney. ABC Family aired Jetix on weekdays from 7am to 9am and weekends 7am to 12 noon ET/PT. The block also aired on Toon Disney Monday through Thursday from 7pm to 9pm ET/PT and weekends from 7pm to 9pm ET/PT.[10]
On 3rd April 2004, Jetix made its debut in the UK, however, at first it was a programming block on the Fox Kids channel, rather than a whole channel, but the goal of the programming block is to increase familiarity of the new Jetix brand in preparation for the Fox Kids to Jetix transition on 1st January 2005,[11] it was basically a soft-launch. The Jetix block also aired during kids prime-time (i.e. after school) between 3pm and 7pm.[12] France was the first country making the full Jetix transition, with Fox Kids France becoming Jetix on 28th August 2004, [13] followed by Fox Kids Scandinavia on 1st October 2004.[14] The Jetix brand was then phased in for each country, with Fox Kids Germany finally making the Jetix transition on 10th June 2005.[15][16] January 2005 was when the bulk of the Fox Kids channels rebranded to Jetix, with exception to the Netherlands in February 2005 and Italy and Israel in March 2005. As Creative Director, Gary Fabbri was responsible for the pan-European on air branding and the branding transition from Fox Kids to Jetix, his team at Fox Kids also created the channel's final branding package, a set of live-action bumpers featuring a skateboarders and BMX bikers, and martial arts all incorporating the Fox Kids logo, this package was later repurposed by Disney XD Latin America.[17][18][19]
Additional Jetix Branding
Jetix Europe also had its own creative department which oversaw all creative design, both internally and externally. Jetix Europe's first creative director was Tim Robinson,[20] he was appointed in 2003, and oversaw the graphical replacement of Fox Kids with Jetix. In December 2005, Tim Robinson left Jetix and Anil Mistry was appointed as the new Jetix creative director, he previously worked at design agency Liquid TV as a senior creative director, and also at Paramount Comedy and Nickelodeon as a creative and also at ITV franchisee for Wales and West England - HTV (Harlech Television) as the title sequence designer for Spaced and Black Books.[21]
Throughout Jetix's existence, many creative agencies and freelancers contributed to the general look of the channel. In 2006, London-based Jump Design was contracted to make new set of Jetix idents, with the channel's mascot "J" taking new forms, including a Flying Saucer, Monster Truck and a Jet Plane, Maya was used to produce the 3D animation, these idents were created and designed by Andy Day.[22] Jump Design also produced the Jetix Kids Awards title sequence, also designed by Andy Day and made in Maya.[23]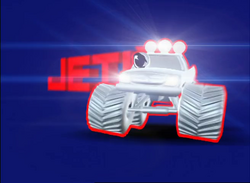 Yeti Motion Graphics made a promo for Jetix to promote the premiere of Pokémon: Diamond and Pearl: Battle Dimension on Jetix UK.[24] Sprout Design (now known as Earth, a division of Evolutions) created a graphics package featuring a Jetix holiday island where characters are entertained with rollercoasters, a volcano hot tub, volleyball on the beach, a hotel and pool and undiscovered jungle areas.[25]
Jetix Spain approached The Thinklab to produce a new space for the channel entitled "Hub" focusing on creativity, heroes, computer games, and other media, these idents were designed by Rafael Calleja and directed by Julio Soto.[26][27] Freelancer Adam Gill made some promos for Jetix Italy, including one for Power Rangers: Ninja Storm[28] London-based design studio Light Creative made some Christmas branding for the channel in form of a pinball machine.[29]
Some idents were also produced for Jetix Netherlands in 2007-2008, animated by Ralf Hekkenberg (Guckindiewelt), produced by Martijn Wolff/Palookaville and backgrounds by Studio Shosho, these idents look very different compared to the Jetix's consistant branding, in this case "J" is textured and missing his thick red outline, and the Jetix typeface is not used (a modified version of the Luggage typeface called "Jetix Luggage" was used extensively on branding), neither is Effectra Ultra.[30][31] Both the Jetix version of Luggage and the original version of Luggage developed by T-26 were used on Jetix website.
Creation Club GmbH created a one-minute montage for Jetix Germany, Concept, Design and Animation by Martina Eidenberger and Editing and Sound: Markus Mollien.[32]
Italian Freelancer Alessio Galfo also modified the "ten-pin bowling" themed ident for Jetix.[33] Buenos Aires, Argentina based animation studio Hook Up Animation produced some environmental promos for Toon Disney/Jetix in United States called "EnvirOlympics", with EnvirOlympics events such as the Low Watt High-Jump and the Tree Planting Shot Put. Andrew Jones helped to create the music branding of Jetix Europe.[34]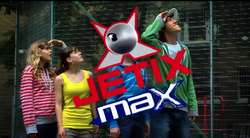 Jetix Europe's Central Eastern European (CEE) channel team (headed by Maciej Bral, Managing Director for Jetix in Central Eastern Europe and the Middle East) produced a collection of idents for its Jetix Max programming strand with the help of Light Creative with Jetix CEE's creative director Simon Dean and Kate Morton, Director of Programming & On-Air, idents feature amazingly extreme superhero-like stunts such as riding a bike up a skateboard ramp and then fly off into the sky, slam dunking on Basketball hoop and then fly into the sky and a breakdancing headspin that goes ridiculously fast.[35] The Jetix Max idents won gold in the Best On-Air Branding category at the 2018 UK Promax Awards.[36][37][38] Light Creative also created an ident for Jetix's successor - Disney XD.[39] Soren Andersen did sound for the Jetix Max idents and also for the Jetix Breakfast ident.[40]
Light Creative also made a competition promo for Jetix Play, an additional channel in Central and Eastern Europe, Middle East, North Africa, Turkey and Poland, the channel aired programming from the DIC Entertainment, Saban Entertainment, ABC Family Worldwide and Fox Kids/Jetix archives .[41][42]
At the start of Jetix Europe's life, Maxime Depondt worked as a freelancer and helped develop the channel's broadcast design including promos and menus.[43] Towards the end of Jetix, Petros Papadopoulos worked as a Graphic and Multimedia Designer.[44] Jay Donn worked as a Junior Graphic Designer for Disney Channel and Jetix between 2008-2009.[45]
The End of Jetix
In Autumn 2006, Toon Disney in the United States became the exclusive home for Jetix, effectively ending the block on ABC Family.[46] However, the Jetix programming block continued to take significant chunk of Toon Disney's airtime, until the introduction of Disney XD in the United States on 13th February 2009.[47] In 1999, Disney forced pay-TV providers in the United States to move Disney Channel from their premium packages to their basic packages or Disney will refuse to renew their carriage deals, Comcast and Time Warner Cable were the last major providers to have Disney Channel as premium channel.[48]
Disney XD was to be slightly different to Jetix, it still mostly focused on the boy demographic, but will have more live-action productions under the Disney banner and will also be a home for Disney's recent animated productions (for both boys and girls), effectively superseding Toon Disney in the United States. In the U.S., the new brand was to be "aimed at boys ages 6-14 and features content focusing on the themes of adventure, accomplishment, gaming, music and sports." Disney XD is a multi-platform concept that draws on a number of Disney properties, such as Disney Channels Worldwide, ABC Cable Networks Group, Disney Online and ESPN.
In the UK, Disney Channel and Playhouse Disney stopped being a premium channel on 16th March 2006, joining alongside Jetix in the basic cable and satellite packages.[49] The premium aspect of Disney Channel (basically Disney's movies, which are considered to the jewel in Disney's crown in terms of content) was merged with Toon Disney to create Disney Cinemagic, a premium channel available as a standalone channel and as a bonus channel in Sky's movie packages. Disney Channel changed focus on original sitcoms, most particularly focusing on girls and Playhouse Disney continued their usual pre-school formula. Jetix remained to be the only children's channel with any connection to Disney to have advertising (with exception to GMTV's children's programming on weekend mornings on ITV and the pre-school block on shortlived channel - ABC1). It wasn't until 1st July 2013, both Disney Channel and Disney Junior (formally Playhouse Disney) started to carry advertising.[50] ESPN Classic, a sports archive channel also launched three days before on 13th March. Disney Cinemagic was subsequently rolled out across Europe replacing existing versions of Toon Disney in France and Spain, followed by launches in Germany, Portugal and Italy, Disney Channel ceased being premium in these countries as well.
A few months before the U.S. launch of Disney XD on 8th December 2008, Disney announced that it will be increasing its shareholding in Jetix Europe to 96% with the intention to buy the remaining shares in the company, effectively ending Jetix Europe's autonomy.[51] Disney wanted full control of the company and bring the European Jetix channels completely under the Disney umbrella, especially as differentiation is no longer need to separate Jetix from Disney Channel as Disney Channel is no longer a premium channel, it made sense for Jetix to be rebranded as Disney XD and to have a singular unified strategy for its channels. After the completion of Jetix Europe's share buy-back offer, Jetix Europe was delisted from the Euronext Amsterdam stock exchange on 27th February 2009.[52][53] In the gradual phase out of the Jetix brand, Jetix Europe's CEO Paul Taylor resigned, with John Hardie, the Executive Vice President of Disney Channels EMEA as CEO on 11th February 2009.[54] John Hardie left Disney for ITN in June 2009 and was replaced with Giorgio Stock (who later became in charge of Turner Broadcasting System Europe).[55]
In June 2008, Disney France announced that Disney Channel and Jetix will merge operations, also at the time Jetix was being affected by falling carriage rates and came close to leaving the CanalSat pay-TV platform in France after protracted negotiations.[56] Jetix France was the first European version of Jetix to make the conversion to Disney XD on 1st April 2009.[57]
In countries where Disney Channel didn't already exist, Jetix became Disney Channel (most notably the Central Eastern Europe and the Hungary, Czech Republic and Slovakia feeds). The very last main Jetix feed in the world, Jetix Russia made the conversion to Disney Channel on 10th August 2010.[58] Also, the Jetix Play feed became Playhouse Disney, however, not at the same time of the Disney XD rebrands, in the countries where Jetix Play broadcast it became a localised version of Playhouse Disney, the rollout happened between 2010 and mid 2011 one region at a time.[59] Jetix Play in Poland (and most countries) closed on 31st July/1st August 2010,[60][61] it was already removed from satellite TV provider Cyfrowy Polsat on 1st January 2010 (delayed by 3 days as it was supposed to happen on the 28th December 2009).[62] Jetix Play was removed from Telewizja n in May 2010. Jetix Play was no longer available in Romania (via Romtelecom's Dolce Satellite TV Service) on 9th August 2010.[63] In Turkey, Jetix Play closed on 1st September 2010, it was replaced when Playhouse Disney EMEA launched.[64][65] The Jetix Play morning programming block on Jetix Netherlands ended with the channel on 1st January 2010, which was when Jetix became Disney XD.[66]
In Italy, there was a management buyout (led by the managing director of Jetix Italy, Francesco Nespega) of Jetix Italy. The Jetix Italy subsidiary was renamed as Switchover Media and was now responsible for two channels that used to be operated by Jetix Italy, pay-TV channel GXT and free-to-air channel K2.[67] Meanwhile the main Jetix Italy channel remained at Disney and was rebranded as Disney XD in September 2009.
Remnants of Jetix Europe continued until around 2012-2014 to wind down operations and as a overhang period to fully integrate Jetix into Disney. European Disney XD co-productions such as Rekkit Rabbit had the Disney XD logo in the credits, but "Jetix Europe Properties SARL, Luxembourg, Zurich Branch" is credited underneath.[68] As a legal entity, the UK subsidiary (which was mostly responsible for the operational side of Jetix) ceased to exist on 11th March 2009, which was before the eventual Jetix to Disney XD rollout.[69] However, other UK-based Jetix divisions, Jetix Entertainment Ltd[70] and Jetix Consumer Products Ltd[71] continued to exist until 20th April 2014, although by then Jetix's functions were already integrated into Disney. The Dutch subsidiary which mostly handled the corporate side of Jetix had its final shareholders meeting on 22nd March 2012.[72]