Canal Panda is a children's channel available in Spain and Portugal, most particularly for pre-school and elementary/primary school children, the channel is owned by Dreamia, which is a joint venture of NOS, a cable television, broadband and telephone provider in Portugal and AMC Networks International, the international division of AMC (American Movie Classics) known for hit shows such as The Walking Dead and Breaking Bad, and they also run the CBS branded channels in UK in cooperation with ViacomCBS.
Canal Panda has an interesting history and an unusual origin, the channel has celebrated its 25th anniversary on 1st April 2021, so there's no time like the present to write about the early days of the channel.
The China Connection
[
]
Canal Panda's origins came in the form of a children's programming block on regional television in China, the block was known as "Panda Club" and was ABC's (American Broadcasting Company) and its children's programming division - DIC Entertainment's first foray into the Chinese market. Panda Club first aired on 3rd October 1994 on regional stations in Beijing, Shanghai, Sichuan and Fujian, which are the four largest in China. The programming block offered a five days a week service lasting for one hour per day. At the time, ABC owned DIC and both weren't owned by Disney until 1996. The Panda Club programming block made use of DIC's programming library with shows such as Madeline, Rimba's Island, Superhuman Samurai Sybersquad and The Adventures of Sonic the Hedgehog airing on the block all airing in Mandarin Chinese.[1][2]
Before then, on 19th September, DIC and ABC launched a similar type of programming block called "Dragon Club", it aired for two hours a day, seven days a week and was available on 80% of cable television providers in China. With Panda Club and Dragon Club combined, both blocks reached 70% of China's 360 million television viewers. At launch, ABC and DIC announced plans for locally-produced animated and live action programmes specially developed for each service.
DIC has also took advantage of local producers, producing more than 100 half-hours of animation with local company Hong Ying five years prior to the establishment of Panda Club and Dragon Club. In regards to ABC's plans in China, John Healy, president of ABC International said "What we are doing in China will be our model for establishing children's services in other Asian territories in conjunction with local broadcast and cable partners." The agreements were negotiated with the help of two former executives from China Films, Xiaolin Chen and Jun Tang. At the time of launch, in each 30 minutes of the block, ABC will get one minute of ad airtime and half of a second minute, the third minute were up for negotiation.[3]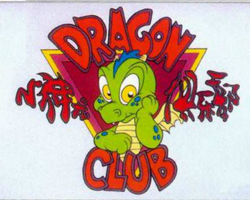 In January 1995, ABC and DIC have also started a smaller-scale Panda Club on India's state-run Doordarshan network. The Indian version of the Panda Club aired two hours of programmes each week, in alliance with First Serve Entertainment, a company headed by Max Gupta and former Indian tennis player Vijay Amritraj.[4] To manage the establishment of Panda Club in India, ABC established offices in New Delhi and Madras to help create new programming for the country, and to syndicate American shows. The Indian version of Panda Club had the same logo, except for one difference, which did not include any Chinese characters and the English text is within the logo's circle).[5]
The Launch In Spain and Portugal, The Start of Disney's Involvement
[
]

Later that year in November 1995, United International Holdings (UIH), ABC's parent company - Capital Cities/ABC, cable company Multitel (Spain), and Grupo Urbina teamed up to take advantage of the cable television markets in Spain and Portugal by acquiring Spanish cable broadcaster TPS. TPS already distributed four channels to Spanish cable companies. UIH, Capital Cities/ABC and Urbina will all hold 30% and Multitel will hold 10% of the company. Combined, the companies had an investment plan of 4 Billion Spanish Pesetas over three years.[6] With ABC now as a shareholder, TPS started plans to launch Panda Club in Spain and Portugal, but this time as a channel and not just as a programming block.
Meanwhile in India in December 1995, Joy Tashjian, president of worldwide merchandising for DIC Entertainment/ABC started a licensing programme for Panda Club, She traveled to India to talk with and develop licensing programs with manufacturers, set up a merchandising office and establish fan clubs for children's series in India.[7]
On Friday 9th February 1996, The Walt Disney Company completed its acquisition of ABC/Capital Cities, which included ABC's 30% stake in TPS (with the proposed Panda Club channel in Spain and Portugal), DIC Entertainment and Panda Club in China and India.[8]
Just over four months later on 1st April 1996, TPS (later to be referred to as Multicanal TPS or just Multicanal) launched Panda Club in Spain and Portugal, the channel used the same logo as the Indian version (which is near enough identical to the original Chinese version).[9]
At launch, Panda Club was only available in Spanish, the channel aired 19 hours a day between 8.30am and 3.30am, according to one of the channel's first carriers, TV Cabo (later to be known as ZON is now called NOS) the channel aired educational programming and cartoons and had competitions.[10]
Panda Club (Spain and Portugal) Becomes Canal Panda
[
]
In October 1996, Multicanal TPS's channels announced a "re-launch" of its channels and at that point in time, its channel portfolio had 150,000 subscribers in Spain and Portugal. Multicanal TPS also invested 500 million Spanish Pesetas into a brand new broadcast centre in December 1996.[11] Panda Club didn't last long in Spain and Portugal and was soon gained its own identity with its own branding and logo in 1997, in terms of branding it has now effectively separated itself from the Panda Club programming blocks in China and India, just the Disney/ABC connection remains. The channel also became available in Portuguese for the first time.[12]
In August 1997, it was announced that Canal Panda will became available on Telefónica's Vía Digital Satellite Pay-TV platform, alongside movie channel Canal Hollywood, documentaries channel Odisea and Spanish music channel Sol Musica.[13]
By the end of 1998, Disney / ABC International TV owned 33.5% of Multicanal TPS, UIH owned 33.5%, Grupo Empresarial Urbina owned 30.0% and Multitel owned 3.0%.[14]
On 25th June 1999, it was announced that Canal Panda's owners Multicanal was to become a 50/50 joint venture between The Walt Disney Company and UPC Europe's largest pay-TV cable operator, the successor company to UIH and is owned by Liberty Global and is known for operating the Chellozone channels such as Zone Reality (formerly Reality TV, now called CBS Reality) and Zone Horror (now called The Horror Channel). Multitel's 3% stake was sold off as well as the 30% stake owned by Urbina.[15]
Disney Sells DIC
[
]
With Disney now owning ABC, Panda Club became a secondary brand, same for DIC Entertainment which was eventually sold in 2000 to DIC's former owner and it's current CEO of the Disney owned unit, Andy Heyward and investment firm Bain Capital Inc. The sale came a year after the moderate success of the Inspector Gadget live action movie.[16] At the time Disney renewed Sabrina, the Animated Series and ordered 26 new episodes of Madeline.[17]
Despite DIC's sale, DIC and Disney would still maintain a working relationship, but this marks the end any involvement from DIC in Canal Panda. Disney was focusing and prioritising the rolling out of Disney Channel in new international markets, which was later helped with the acquisition of Fox Family Worldwide in September 2001, which added more channels to Disney's broadcasting portfolio. Disney Channel in Spain launched on 17th April 1998,[18][19] which has partly supplanted Canal Panda as Disney's main broadcasting priority channel in Spain. The only difference is that Disney Channel was a premium channel, and Canal Panda is a basic pay-TV channel, similar to the Disney Channel and Fox Kids/Jetix premium/basic strategy Disney used to operate between 2001 and up until the end of the decade.
The End of Canal Panda In Spain
[
]
On 7th December 2000 it was announced that Multicanal signed a deal with major Spanish broadcaster Antena 3 to distribute Canal Megatrix on cable television in Spain, this means that Canal Panda was about to exit the Spanish market and focus entirely on Portugal. At the time in Portugal, Canal Panda was the second most watched thematic channel and was the leader in audience share among children's channels. Canal Megatrix is the thematic channel developed by the children's entertainment platform created from Antena 3's Club Megatrix. The television program, produced by Antena 3 premiered in 1994 and was popular amongst children in Spain. It also had the largest children's club in Spain: a total of 1,200,000 members, a website, two magazines and ability to develop events related to children's entertainment. Canal Megatrix replaced Canal Panda in Spain on 1st January 2001.[20]

The End of Disney's Involvement In Canal Panda
[
]
In November 2005, Disney sold their 50% stake in Multicanal (then known as Multicanal IPS) to Liberty Global, with the company being renamed as Chello Multicanal after being fully integrated into UPC's Chellozone channel portfolio.[21] As a result of Disney selling their 50% stake in Multicanal, it ends the historical continuity and connection of Canal Panda's original creators - ABC. Multicanal was not seen as a priority business to Disney, which itself is a media conglomerate, but Liberty Global were interested in expanding their Chellozone TV channels business.[22][23]

The Start of Dreamia (UPC and ZON) and Spain Relaunch
[
]
DIC re-entered the Spanish and Portuguese television channel markets with a new children's channel - KidsCo, in May 2008 and March 2009 respectively. KidsCo was a joint venture of Corus Entertainment's Nelvana Enterprises, DIC Entertainment and Sparrowhawk Media (a division of NBC Universal), the channel in both Spain and Portugal was distributed by Spain's biggest producer of thematic channels - Teuve.[24][25] In 2010, ONO sold Teuve to Chellozone, which means distribution of KidsCo was now handled by the same company that owned Canal Panda.[26] KidsCo ended all international transmissions between late 2013 to 2014.[27] In Europe, KidsCo ended on 31st December 2013.[28]
In November 2009 it was announced that UPC's Chello Multicanal and ZON have entered into a strategic partnership for the production, marketing and distribution of children's, movie and entertainment channels in Portugal and Portuguese-speaking Africa. Together, Chello and ZON formed a new company, named "Dreamia – Serviços de Televisão" (Television Services in English), in which they are equal partners.[29][30]
With Canal Panda now under Dreamia, the company also launched Panda Biggs, a new youth channel targeting pre-teens aged 8-14, which allowed Canal Panda to focus on younger children. Following its launch, Dreamia will broadcast a total of four channels, the others being Canal Panda (kids), Canal Hollywood (movies) and MOV (movies and series).
As part of the Dreamia agreement, Chello Multicanal resold the channels to distributors on behalf of Dreamia in Portugal and ZON acted as a reseller in Portuguese-speaking Africa. All channels were made available on a non-exclusive basis to all platforms.
On 1st April 2011, Canal Panda re-entered the Spanish market, the channel was available on Digital+ (Canal Satellite Digital), ONO and Movistar Imagenio from re-launch.[31] Canal Megatrix closed in 2003, following the merger of Canal Satélite Digital's merger with Vía Digital, but the Megatrix programming block continued on Antena 3 until 2013, which was when it was replaced with its current block called Kidz. After the launch of Panda Biggs (later simply entitled "Biggs"), Canal Panda started to focus more on younger children and with slightly different management, which means it's now a slightly different channel to when it originally left Spain. Canal Panda continues to be available in Spain.
Liberty Global Sells Chellozone To AMC, ZON Becomes NOS
[
]
On 28th November 2013, it was announced that Liberty Global's Chellozone channels and its other channel assets will be sold to AMC Networks Inc. for $1 Billion (USD), the business unit became AMC Networks International.[32][33] The sale allowed Liberty Global to focus on its pay-TV business especially as only a few months before in June 2013, Liberty Global acquired British cable television provider Virgin Media for $24 Billion (USD).[34][35] The sale of Chellozone to AMC means that AMC now owns 50% of Dreamia, the company that owns Canal Panda. The sale also included 20% of Disney XD Poland and also Central Eastern European children's channel Minimax.
Earlier in January 2013, Optimus agreed to merge with its larger telecoms and pay-TV rival ZON.[36] In May 2014, the newly combined company was renamed as NOS (which is pronounced just like "nós" which is Portuguese for the word "we"). Both AMC and NOS continue to own operate Canal Panda and Biggs through its Dreamia joint venture to the present day.[37]

Canal Panda rebranded on Monday 6th July 2015, this was when the current logo was introduced, and a brand new look for the channel's cuddly mascot.[38]
Videos
[
]
The only known continuity of Panda Club Spain/Portugal: https://twitter.com/televideofm/status/1266389755836710912
Playlist of opening credits of some of Canal Panda's popular shows throughout the years: https://www.youtube.com/watch?v=-TrjeckP_EU&list=PL8b9Y6xHXfLO4FnJuviGoAocaYaaEKMTc
Canal Panda Continuity from 1999: https://www.youtube.com/watch?v=7kL8lrUNk10
Canal Panda Promos from 2000: https://www.youtube.com/watch?v=TsJUWIg-MT4