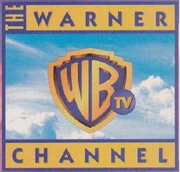 In June 1996, Warner Bros. announced plans that will launch WBTV (The Warner Channel) on Sky's analogue satellite platform (as well as cable) in the United Kingdom,[1] the channel was slated to launch on 1st November 1996, but this never happened. As the name of the channel suggests, it was expected to air programming from Warner Bros.' extensive archive featuring programming for all ages including Lois & Clark: The New Adventures of Superman and Batman: The Animated Series as well as drama series, comedy and classic animation such as Looney Tunes.[2][3]

Why Didn't WBTV Launch In The UK?
[
]
At first, WBTV's launch was delayed, it was supposed to launch on 1st November 1996, Warner Bros. didn't disclose the reason why it was delayed at the time, but it was believed that it was caused by a personal rift between Rupert Murdoch's News Corporation (News Corp owns FOX and a major stake in British Sky Broadcasting) and Ted Turner (the chairman and founder of Turner Broadcasting System, which merged with Time Warner the same year with Ted Turner now sitting on Time Warner's board). The dispute was caused by Time Warner Cable's refusal to carry the Fox News Channel (which also launched in 1996) in New York and other markets in the United States, instead favouring Turner's CNN on its cable TV platform. It was believed that Rupert Murdoch used his influence to prevent WBTV from launching on Sky.[4] [5]
In December 1996, Warner Bros. decided to cancel plans to launch WBTV in the UK and all other plans to expand into other international markets. The decision to cancel the channel's launch was due to an internal dispute between Time Warner management (specifically Warner Bros.) and its newly merged division Turner. WBTV: The Warner Channel is said to have been cancelled because it would have offered direct competition to TNT and Cartoon Network in markets such as the UK and Australia, which means Time Warner would technically be competing with itself. Time Warner decided that Turner should be the division to have control over international channels and not Warner Bros., in exchange for this, Warner Bros acquired Turner's programme sales business. Warner Bros' cancellation of WBTV indicated that Time Warner's and Turner's merger wasn't moving smoothly at the time.[6] In later years, WBTV expanded into Asia and then France, but its management was under the control of Turner International (now known as WarnerMedia International, with the international divisions of what was Turner and Warner Bros. now working as a single division in co-operation with WarnerMedia's Studios and Networks division i.e. the main Warner Bros./ex-Turner management and leadership in the United States).
Sky UK promotional video from 1996 featuring WBTV (used by electrical retailers for display and promotional purposes) https://www.youtube.com/watch?v=d5SHU489J_E